Graphic Design Services: Web Design, Logo Design, & Print Material Development
As a leading website design company offer superior web design services, Silver Scope also offers a complete range of graphic design services for our clients as well. Our graphic design services include logo design, social media page design, brochure design, newsletter design, and ad development. These services can use a consistent design that will help you maintain a harmonious look and feel with all of your marketing materials including for both online and print advertising. This will help you to develop and reinforce brand recognition for your company.
Our graphic design services utilize unique, cutting edge designs to that will stand out to your customers. Our graphic designers have experience working with a variety of types of marketing materials and can develop clean and appealing designs that result in effective advertising and marketing for your business.
To learn more about our graphic design services and for pricing information please submit a request for a free quote or contact Silver Scope Web Design directly to discuss your graphic design needs.
Our Graphic Design Mediums Include:
Web Design and Website Development: We can design unique, custom websites for businesses in any industry. Our graphic designers will create designs that are center around your specific business and products. We can develop layouts that showcase your services and portray these services in a simple, easy to follow navigation structure. This usability is an important but often overlooked aspect in graphic design for websites.
Logo Design: A logo is the foundation for developing your branding strategy. Therefore, it is important that your company has a good logo. Our graphic design services include developing unique, creative, and memorable logos for businesses. Whether you know the overall color scheme and look that you would like your logo to have or you are starting from scratch, our graphic designers can develop a logo for your business.
Social Media Page Development: Social media marketing is the new trend in online marketing and it is becoming increasingly important for all types of businesses. With our graphic design services, we can develop custom backgrounds for your company Twitter page in order to help this page stand out. We can also use our graphic design services to create profile banners, landing pages, and marketing pages for your company Facebook page. Our social media graphic design services will help your social media marketing pages to integrate with your additional marketing efforts and portray consistency across all mediums.
Online Marketing Material Design: As part of our graphic design services, we offer designs for a variety of online marketing materials including online newsletters, email blasts, and online ads. These designs can include original content written by our copywriters or content provided directly from your company.
Print Material Design: Our graphic design services are not only limited to online designs, as we can also develop designs for print materials including brochures, newsletters, flyers, and mailers.
If you are interested in any of the above graphic design services for your business, please contact our website design company today to learn more about how we can help.
Your Graphic Design Project
By taking advantage of our web design, online, and print material designs, all of your marketing materials will have a consistent look that supports your overall brand. After completing the design for any marketing materials, these are handed over to you so that you have control to use them as you wish. We can supply logos and other graphics in a variety of formats to meet your needs.
Graphic Design & Choosing Your Color Palate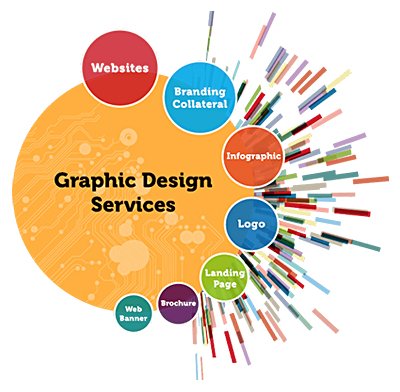 Our customers often come to us with specific ideas in mind of what they want their final product to look like. However, many others have no idea where to start with their design project. Either way, our graphic designers can work with you to develop the website, logo, and marketing materials that you need to advertise your business. For those who need help choosing a color scheme and developing an overall design for their marketing materials, our graphic designers have a thorough knowledge of color psychology. We can apply this color psychology when selecting your website design colors and other marketing material color palates in order to create the most effective and appealing designs.
Learn more about Color Meanings and Choosing Your Website Color Scheme.