Accounting Website Design: Web Design for Accountants, CPAs, & Accounting Firms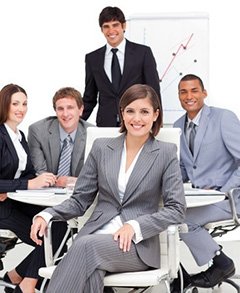 Accounting professionals rely on a reputation of honesty, expertise, and responsibility in order to allow clients to trust them with their money. You know that you have all of those traits – but how can you make sure that your clients know that too? Silver Scope Web Design is here to help by providing customized accounting website design services that will show your clients that they can count on you.
Our expert team of designers will work closely with your business to ensure that you have a professional, appealing website that both reaches and retains clients. We don't just make generic websites – we use our knowledge of your company and your industry to develop specialized accounting website design that will set you apart from the competition and project that sense of trust that your clients need.
Want to learn more? Contact us by phone at (877) 745-8772 or use our online contact form to request a free web design quote and to learn about how Silver Scope Web Design can bring your business to the next level.
Why Choose Our Accounting Website Design Services?
You know that once you start working with a client, your services will speak for themselves. But, in an industry where competition is stiff and clients have the highest standards, creating a powerful first impression is key. For many potential clients, that first impression comes from your website. A poorly designed website leaves clients with doubts and leads them to check for other options; on the other hand, a well-designed accounting website lets clients know that they have found a business that they can trust with their sensitive financial needs.
At Silver Scope Design, we understand how much of a difference that first impression can make. That is why we make sure our accounting website design works with the unique needs and strengths of your company. Our team is experienced in creating customized websites for accountants, CPAs, accounting firms, and other related professionals and businesses.
Our accounting website design services allow your business to:
Spread the reach of your company by increasing your online presence and integrating effective search engine optimization content.
Create a strong first impression that leaves customers and potential clients with a clear understand of who you are and what you can do for them.
Establish the sense of professionalism and reliability that is necessary for any accounting business.
Improve your customer experience through intuitive and clear website design.
Benefits of Our Customized Accounting Website Design
Your accounting firm needs a website that you can rely on to show your clients that they can rely on you. Many companies in accounting website design offer interchangeable templates that leave your business undistinguishable from hundreds of others; Silver Scope Web Design offers individually designed websites that give your business a full and unique presence on the internet.
Our accounting website design services help your accounting business in several critical ways:
Achieve Big-Picture Goals: We help you achieve big-picture goals by expanding your company's reach in order to attract new clients, introduce clients to the services you offer, and create and maintain a sense of trust.
Meet Individualized Needs and Expectations: Our accounting website design experts use their understanding of your company and the accounting industry to meet your individual needs and make sure that your website is designed to be both appealing and effective.
Learn More About Our Accounting Web Design Services
To learn about more of the ways in which Silver Scope Web Design can help with your business's accounting website design needs, contact us by phone or online form for a free web design quote today, or check out examples of our previous work in our web design portfolio.