Agriculture Website Design You Can Trust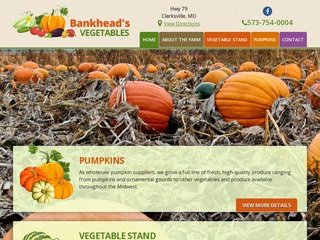 These days, having a website for your business is not so much a suggestion as it is a necessity. Even in traditionally "low-tech" industries such as agriculture, polished agriculture website design can spell the difference between success and failure. Whether you need a website that communicates the value of your agricultural products or services, displays the quality and important information about your produce, or gives your farm maximum visibility around harvest time, Silver Scope can get the job done.
If you are ready to take your web presence to the next level, Contact Silver Scope Design today to learn more about our agriculture website design services. You can speak with one of our St. Louis web design experts by calling (877) 745-8772 or using our convenient online form.
Why Choose Silver Scope for Your Agriculture Website Design
The two biggest goals of your website should be to succinctly share accurate information about your business and to convincingly communicate the value you offer. However, this may not turn out well if the web design firm you hire does not have a strong understanding of your industry. As agriculture website design specialists, we have the knowledge and experience it takes to properly display your business online in a way that your attracts customers.
Our agriculture website design will help you:
Target customers located within your farm's/market's/company's geographic area using proven search engine optimization methods.
Share accurate information about your products and services to customers, communicate the value you offer them, and keep them updated on news about your company.
Instill trust in your customers and convey the high level of quality you offer when it comes to your products and services.
Benefits of Proper Agriculture Website Design
In the world of agriculture website design, whether you are selling produce, farm equipment, or other agriculture-related services, you need to portray an image of quality. Additionally, unlike your physical employees, your website is working for you 24 hours a day, 7 days a week, 365 days a year. When properly designed and implemented, your website becomes one of your biggest assets. The agriculture website design professionals at Silver Scope will develop a tailored solution to your unique needs.
 Some benefits of our agriculture website design services are:
Increased awareness to the customers who matter most. Depending on your location and target market, you may not be trying to sell your products or services to everyone. Maybe you are only targeting certain cities or states, or a certain demographic. With our targeted SEO methods, we will make sure the right people are seeing your site.
Increased customer interest and inquiries. If customers have questions, they want answers right away. With proper agriculture website design, your customers can get the answers they need and reach out to you any time of the day or night!
Learn More About Agriculture Website Design
If you are ready to take your agricultural business' web presence to the next level, contact the St. Louis web design experts at Silver Scope Design today!