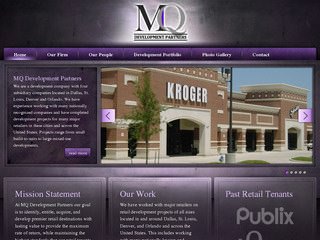 Commercial Real Estate Website Design
If you are looking for a web design company to develop a website that is unique, informational, and user friendly for your Commercial real estate company, Silver Scope web design is the company for you. We have the knowledge, experience, and expertise needed to create a website that will promote your business. With our superior search engine optimization (SEO) services, Silver Scope Design will develop a website that provides excellent exposure through organic listings in search engines. Therefore, a custom designed website from our skilled web designers can act as the key piece of your Internet marketing strategy.
Why Custom Web Design is Better than using a Web Design Template
While using a basic web design template may seem like an easy and quick way to build a website for your commercial real estate business, it can really end up costing you in the long run through lost sales and poor search engine optimization. The following are a few reasons why your commercial real estate company needs a custom website from our professional web design company, rather than an off-the-shelf, template website. Visit our Why Your Company Needs a Custom Website to see a complete list of reasons why a custom website is better than a using a web design template.
Custom websites help your company to stand out against the competition: If you use a standard cookie-cutter, website template for your company website, you make likely find that your competition is using the same site with a different color scheme. This can mean that your company will fade in to the background, making it hard for customers to distinguish between your brand and others. With a customized website package from our web designers, your company will receive the distinction it deserves.
We offer unmatched web design knowledge and expertise: Our experienced web designers will help you create the most informational and easy to use website for your commercial real estate company. We can help you determine the most important information and crucial resources to include on your website so that it is an effective tool for your commercial real estate customers.
Custom Web Design is easy and saves you time: With a web design template, you have to take the time and energy to learn how to customize the template, create and add your own content, and much more, resulting in a finished product that often looks unfinished and far less professional than you desire. With a website from Silver Scope Design, after working with you to determine the overall look and feel that you would like your website to portray, our web designers will go to work building your unique site. We even offer complete copywriting services so your web site will have custom search engine optimized content with little hassle to you.
Affordable Web Design Services
Silver Scope Web Design offers affordable website prices. We will work with you on an individual basis to develop the ideal website for your commercial real estate company while staying within your budget. We even offer several no interest financing options to make affording the professional website you desire for your business a possibility. Please contact our professional website designers for more information about our web design prices and affordable website design services.
See more websites in our web design by industry portfolio.