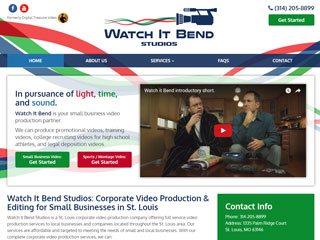 Photography Website Design: Websites for Professional Photographers
Today, taking a photo is as easy as pulling out a phone and pressing a button. With the increasing accessibility of devices capable of taking high-resolution photos, it is more important than ever for professional photographers to establish a way of setting their work apart. Silver Scope Web Design has a team of expert designers ready to make sure that your customers know the worth of your services. We offer a variety of photography website design packages tailored to your specific needs. Our customized websites will display your work in the best light so that customers know that they are making the right choice.
To learn more about our photography website design services, call us at (877) 745-8772 or use our online contact form to request a free web design quote. You can also see examples of our completed projects in our web design portfolio to get a preview of what our work looks like!
Why Choose Silver Scope for Your Photography Website Design?
Anyone can make a website. But, just as a hastily-snapped picture on a phone can't compare to the work of a professional photographer, most companies rely on websites that fail to stand up to the professional designs we create at Silver Scope Web Design. We know that 'easy' and 'great' often don't go together, and that's why we work hard to make sure that your company has a website that truly reflects the quality of your business.
You're an expert at taking unforgettable pictures. We're experts at creating unforgettable websites that will get people in front of your camera.
Our team of designers has experience creating specialized websites for a broad range of photography companies, including:
Wedding Photographers
Family Photographers
Baby & Newborn Photographers
Pet Photographers
Event Photographers & Videographers
Real Estate Photographers
Benefits of Our Customized Photography Website Design
Your photographs are your best advertising tool, but without an effective photography website design to display them, it's easy for them to get lost in the huge volume of photography on the internet. You need something more than a generic website. At Silver Scope Web Design, we will work to give you a customized website that not only includes but also celebrates your photographs.
Benefits of our photography website design services include:
Search engine optimized content that helps customers find your business: We will work to improve your online visibility, helping you stand out above the competition.
Professional photography website designs that are developed specifically for you: We don't rely on inflexible templates that leave every website feeling interchangeable. Instead, our designers will create a custom website that not only projects an image of authenticity and professionalism but also helps to highlight what is special about your photography.
Intuitive ways to display examples of your work: As you accumulate more business, you also expand your portfolio and gain more examples of your work that can be shared with potential or returning customers. Our photography website designs make it easy for you to add to your website regularly allowing your customers to see the best of your work.
Learn More About Our Photography Website Design Services
To learn more about how Silver Scope Web Design can help create a picture-perfect photography website design for your business, contact us with any questions or to request a free web design quote today.