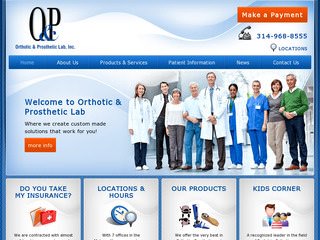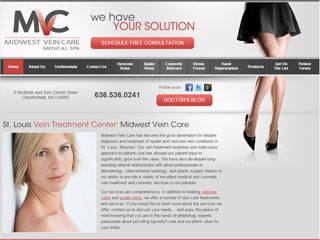 Physician Website Design: Websites for Doctors Offices, Physicians, & Medical Professionals
Navigating the medical industry is challenging enough, and choosing the right physician can be just as troublesome! Patients are often faced with an overwhelming amount of choices and information that can leave them feeling stressed, misinformed, and misguided. With Silver Scope's physician website design services, you will be sure that your website is clear, concise, and at or near the top of any search engine results - bringing business to you!
Our experienced design team will employ the latest web design techniques to build your physician website from start to finish or to help you revamp your already existing site. Additionally, we offer domain name registration, web hosting, email addresses, social media marketing, and more, making us your complete source for all of your website needs. Review our Design Services to the see the comprehensive list of what we can do for you.
We understand that you and your office staff are busy. Therefore, we make building a customized website simple. When working on your physician website design project, our experienced web designers will listen to your needs, give you advice and insight on what makes a superior physician website, and, in the end, give you a top-notch website design for your medical office or practice! Contact us today to request a website design quote or call us at (877) 745-8772 to discuss how we can help you!
Experienced Physician Website Design You Can Trust
As leading website design professionals, we have developed websites for a variety of healthcare and medical related industries and businesses, so we know what it takes to make your physician website design the best it can be. Our design staff has the skills, knowledge, and experience needed to make your design unique, personal, informative, and easy to use. Our website design portfolio includes several types of medical and healthcare websites. Some examples in our portfolio include:
Medical Doctor Website Design
Dental Website Design
Eye Doctor Website Design
Hospital Website Design
Healthcare Website Design
Medical Office Website Design
Specialized Medicine Website Design
Let us get started now on your physician website design project! To find out more about our website design services and to request your free web design quote, call us at (877) 745-8772 or use our convenient online contact form today.
Benefits of Custom Website Design from Silver Scope
We work with you and listen to your needs to design a personalized physician website that will be informative yet not overwhelming, creative but not confusing, comprehensive but easy to navigate. Your customized physician website design will distinguish you from your competition! Your website will tell the story of who you are and what your company stands for.
Benefits of our web design services include:
Information Customized to Your Business: Your physician website should include the standard about us, contact, and services offered information. However, it should not stop here. Working together, we can help you decide on all of the other details and information necessary to include on your website so your patients can make an informed decision. This may mean including additional information on insurance, specialties, appointments, testimonials, qualifications, and other information you deem necessary and important for your current and potential patients.
Search Engine Optimized Coding & Content: Search Engine Optimization is the use of a variety of techniques that we will apply to your physician website design so that your site appears at or near the top of results in search engines such as Google. Being in the top of a search will help bring business to you. Silver Scope uses a variety of proven SEO techniques in our web designs that will help increase visibility and interest in your website by attracting new visitors.
Expert Design for Improved User Experience: Our experienced designers know how to use images, color schemes, logos, calls to action, buttons, white space, fonts, and the other various web design elements to make the messaging on your site informational yet easy to read. Your customized, easy to navigate, comprehensive, and informational physician website design will make your current and potential patients comfortable in choosing your business.
Contact Us for a Free Quote on Your Physician Website Design Project
Take the first step toward your customized physician website design! Use our convenient online quote request form or call us at (877) 745-8772 to discuss how Silver Scope can help build your online presence.