Web Design Portfolio > Shirts 4 Jerks: Offensive T-Shirts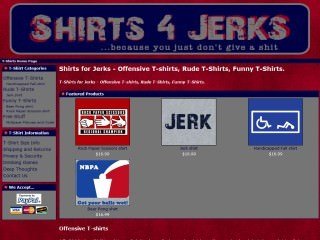 Offensive T-Shirts
Industry: T-shirts / Ecommerce Web Design

The Shirts for Jerks website is an ecommerce site developed to sell funny, offensive, and rude t-shirts online. This website includes a simple ecommerce shopping cart through which shirts are sold as well as a number of static, brochure style pages included to improve search engine optimization. We used a masculine textured or grunge style design for this website that portrays a hip and laid-back image, which is consistent with the company's product line.