Web Design Portfolio > Williamsburg Pet Kennel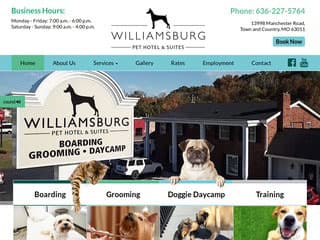 Williamsburg Pet Boarding Kennel
Pet Website Design

As an established pet boarding kennel with over 50 years serving the St. Louis area, Williamsburg was looking to boost their online image. Having just completed some major renovations to their building, the kennel wanted a new website with a fresh new look that would feature photos of the new facility as well as promote some additional new services they offer. We developed this fun and professional website that includes many pictures of their boarding accommodations, lists all of their services and extras, and integrates with their online booking for an exceptional user experience.