Web Design Portfolio > Midwest Pumpkin Supplier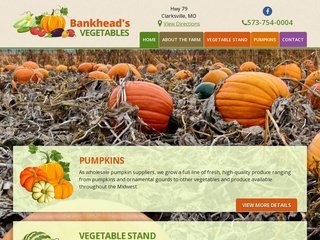 Midwest Pumpkin Supplier
Agricultural Website Design

For this website design project, we designed a new website for Bankhead Vegetables a wholesale pumpkin supplier serving the Midwest with bulk and wholesale pumpkins. In addition to wholesale pumpkins, they also sell a variety of fresh grown and handpicked vegetables at their local farm stands. They came to us looking for a website that would be search engine optimized to help them grow their pumpkin sales and reach new markets outside of Missouri. We gave this website a professional look while still emphasizing their homegrown, family owned reputation.