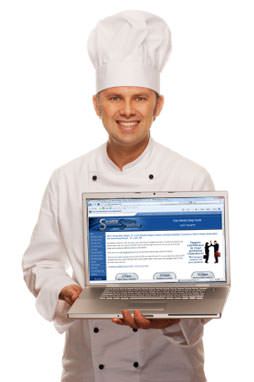 Catering Company Website Design
Have you ever been working an event and impressed one of the guests with your quality food and service so much that that they ask how they can contact you for their next event? If so, you probably handed them a business card with a phone number and maybe even an email address.
The problem with this is that business cards are small and easily lost, so if a person does not need to hire a catering service for several months they may lose your contact information. However, with a properly designed website the person will be able to search for you and find information about your company online. A website is much easier to remember than a phone number, and often if someone just knows the name of your company, they can find your business on the Internet. Therefore, you need a website designed by Silver Scope Web Design.
The following are several important points that our team of skilled designers keep in mind when developing a catering service website.
SEO: Allow Customers to Locate your Catering Company
The goal with catering company web design is to create an atheistically pleasing website, which will allow your company to be found by new customers. Today with easy access to the Internet in nearly every home and business, when someone is searching for a company to provide a service, they often first turn to the Internet. This is why it is important for your banquet hall website to be designed with special attention given to search engine optimization.
Search engine optimization is the process of developing a website so that it will rank well in search engines, such as Google, for certain desired terms and key phrases. With proper search engine optimization performed by our team of skilled web design professionals, your catering service website will easily be found by potential customers.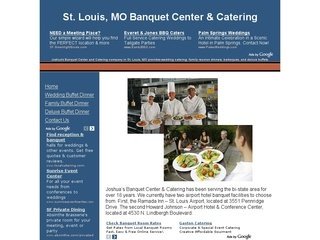 Catering Websites Provide Readily Available Information
A website is a great tool because it allows customers to access important information about your company at their convenience. It is important to include the proper information on your website designed by Silver Scope Web Design company. Our skilled professionals will work with you to determine the ideal information about your banquet hall to provide on your website. Some information, which you may determine to be necessary includes:
Menu Options
Table and Chair Rental Information
Decoration Ideas and Options
Sizes and Seating Limits of Available Banquet Halls
Photo Gallery
Another optional inclusion on for catering service or banquet hall website design includes a picture gallery. For banquet halls, a picture gallery allows you to post photos of the rooms, which you have available for rental. You can also post photos that show clients optional decoration ideas and themes. Catering companies may want to include photographs of food on their website to provide clients with an idea of what plated meals will look like. In addition, if a catering company offers additional decoration or table and chair rental services, they can include pictures of these things in their website design as well.
Request a Free Quote
The request a quote page is another option to consider when comparing catering service web design. Including the option for clients to request a quote from your banquet service allows you to gather contact information on visitors interested in your services. Then you can use this information to contact the individuals and discuss their needs on personal level. This is important so that you can address any unique questions or concerns, which they have.
If you are interested in learning more about our professional catering service web design packages, please request a free website design quote today. One of our skilled professionals would be happy to discuss how our services can best fit your company to design your ideal website.
See more websites in our web design by industry portfolio.