Search Engine Optimization (SEO) - Rank Higher in Search Engines
Search Engine Optimization is absolutely critical to the success of your website. If no one can find your site, no one can buy your products or utilize your services. Pay Per Click gets to be very expensive very quickly. A good judge of a web design company's skill and technique is how well they rank in the search engines' results pages.

There are many benefits of SEO. Search engine optimization is a key aspect of inbound marketing, allowing your website to draw in visitors who are actively searching for products and services like yours. With proper Search Engine Optimization, your website should achieve top placement and rankings in search engines such as Google, Yahoo, and Bing. Our St. Louis SEO Company will help your company achieve high website ranking (and most likely the #1 ranking placement) which will result in more website traffic and therefore more business. Send us some simple information and we will send you a free SEO quote.
Each search engine has its own algorithm which ranks pages differently based on specific criteria. Some people actually think that they can just plug all the keywords into the Keywords META tag and you are finished. Ha! That may have been partially true in the 90s but people exploited that strategy so much that now Google doesn't even look at the Keywords META tag. Some of the modern factors search engines consider are the TITLE, H1, H2, ALT tags, backlinks and keyword density in a web page's content.
SEO is a Science
In order to achieve Google optimization, Yahoo optimization, and/or Bing optimization, you first need to look at your current website placement for your desired keywords or key phrases. We do not pay for search engine ads and neither should you. If your website not is listed in the top 5 results or even the first page of the search engine results, contact us for a free Search Engine Optimization quote.
The next plan of action is to make a list of keywords and key phrases for which you would like to have the website optimized. It is usually very easy to be ranked #1 if you have more keywords in your search query (as opposed to a one-word search). Then take a look at your content and make sure that you have these keywords in the content area of your website. Google says, "Content is key!" Regarding website content, we recommend that each page have at the very least 500 words of text to achieve top website ranking. If you would like more information about our SEO copywriting services, just call and one of our trained copywriters will explain how they create articles and content optimized for top search engine placement. Your website is a reflection of your business and professionalism to the world. Customers will judge you based on what you show them.
Without giving away too many more industry secrets, many website optimization tips are just common sense. If you know how to properly code web pages semantically, basic website SEO should come quite easily to you. But basic SEO will not cut it. Considering how competitive businesses are, we think you should have every advantage to help you outshine your competition.
There are many Search Engine Optimization firms that claim that they hold the key to unlocking that coveted #1 position. The truth, in fact, is that no one person knows the exact algorithms that search engines use to position a website where they appear - but we seem to do rather well. Illustrated by our proven ability to design and develop websites which consistently rank high in the search engines.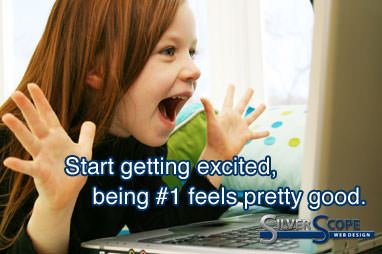 Search Engine Optimization for Voice Searches
Optimizing your website for voice searches is similar to traditional SEO, but there are some elements that are more important and should not be overlooked. For example, the search phrases used in voice searches often differ from traditional typed searches. Knowing this, we optimize your website to perform better and achieve the best search engine rankings. Learn more about how to optimize your website for voice search.
We Can Prove It
It is no coincidence that the pages we have coded have maintained or improved rank with the popular search engines over time. Contact Us today for proof and more details about how Silver Scope Design can code your new or existing website to rank well in search engines like Google and Yahoo!