Web Design by Industry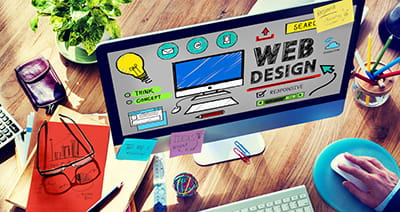 Are you looking for a web design team who already has the experience of designing websites targeted toward your specific industry? As you will notice in our web design portfolio organized by the date the website was launched, our web design team has the collective skill and creativity to design a website for a wide variety of industries. Just think, at one point, all the websites we have ever designed were "new industries" which we had not yet attempted. Our clients knew from seeing the work we developed up to that time that our design team was more than capable of producing another stunning and functional website so they gave us the green light.
Below is our portfolio sorted by industries for which we have designed websites. Even if you don't see your industry in the list below, rest assured that we would love the opportunity to take on a new experience. After all, variety is the spice of life.
Advertising
Architecture
Artist
Basement Finishing
Business
Chemicals
Communications
Community
Entertainment
Entrepreneur
Firearms / Guns
Government

Home Improvement / Remodeling
Invention
Knife Crafting
Magician
Occupational Therapy
Painting
Professional Athlete Website Design
Recording Studios
Recreation
Science
Sports
T-Shirts