Collegiate Sports Website Design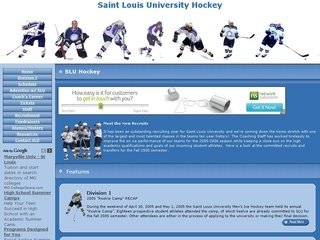 In America today, many college sports are extremely popular. College sports teams are often followed by fans as much as and sometimes even more, enthusiastically than professional teams. College graduates enjoy the opportunity to reminisce about old times as they follow the teams of their alma mater. In addition, people living in or around college-towns love to join in the excitement by following collegiate sports teams. Finally, some sports fans just love the enthusiasm and energy found in college athletes who are playing for the love of the game.
Therefore, it is important that your college sports team has a well-designed website to allow fans to access important information about your team. Several different sports for which Silver Scope Web Design creates professional college team websites include:
Baseball team websites
Basketball team websites
Football team websites
Tennis websites
Golf websites
Swimming websites
Track and Field websites
The following are descriptions of some important aspects, which we include on websites, designed for college sports teams. These aspects allow fans to easily find information on your website. Information that our team of skilled designers recommends including on your team website ranges from player and team stats to game dates and locations.
Online Merchandise Stores for College Sports Teams
Our team of skilled web designers recommends the inclusion of a merchandise store on you collegiate sports team website to allow fans to purchase items with your school's logo. A merchandise store allows people to purchase items online as gifts for new college students, alumni, and diehard fans. This is a great feature to include in your college sports team web design package, as often time fans do not live close enough to drive to the school's bookstore to purchase merchandise.
Interactive Sports Team Calendar
Another aspect, which is important for collegiate sports team websites, is an interactive calendar. With this calendar feature on your website, you can keep an up-to-date schedule of games available to fans. Therefore, thanks to your website, your fans will never miss a game.
Player Bio Web Pages
Some college sports teams also provide pages on their website that include a bio about each team member. These web pages can contain information like the player's photo, hometown, and other important stats. Incorporating this information into the design of your collegiate sports team website will allow your site to be more informative and fan friendly.
Post Final Scores of Recent Games on your Website
Fans like to be able to follow their favorite teams closely. Therefore, if they have to miss a game, they will want to be able to check and see what the final score was. Including a section in which to post recent game scores when designing your college sports team website, can be a great idea.
If you are interested in our collegiate sports website design packages, please contact our web designers today to learn how we can create a site that captures the spirit of your team. In addition, please feel free to browse our web design portfolio and look at some of the websites, which we have developed in the past.
See more websites in our web design by industry portfolio.