Auto Dealer Website Design: Websites for Dealerships & Car Dealers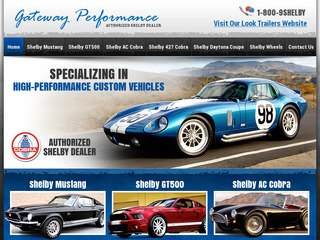 Whether you are running a small car dealership or a large one, auto dealer website design should be a crucial part of your marketing program. In today's world where Internet marketing has become increasingly popular, a well-designed original website can benefit businesses in any industry. With quality auto dealer website design, you will be able to gain recognition, attract new buyers, and provide useful information to your customers. As a leading website design company located in St. Louis, Silver Scope Web Design can help you create a unique website to effectively market your services and establish a substantial presence on the Internet.
With the help of our auto dealer website design services, we can ensure that useful information like product availability, rates, store location, and store contact information will easily be available for your customers. Having this information readily available to potential customers is crucial for all types of businesses today, especially dealerships in the competitive automotive industry, where so many customers browse online before ever stepping foot in a dealership.
To learn more about our services and how we can build a website that will help you establish an effective Internet presence, contact us toll free at (877) 745-8772 or request a free website design quote online.
Benefits of Choosing Our Auto Dealer Website Design Services
At Silver Scope Web Design, we cater to a wide variety of clients in many different industries. One of our areas of specialty is creating custom websites and original content for automotive website design projects. From included SEO to custom design services, our auto dealer website design services offer many benefits to customers. The following are just some of these benefits:
Included Local Search Engine Optimization: By using search engine optimization in every auto dealer website design project, we can help you target and attract customers in your local area. The SEO tools and techniques that we use can help increase your website's organic search engine rankings in popular search engines. This means more organic search engine traffic for your car dealership website.
Customized Design & Features: Unlike many other web design services, we avoid using pre-designed website templates. We believe that every client has specific preferences and needs that cannot be reflected by a pre-designed website. Our dedicated team of experts will help you develop an auto dealer website design that reflects your company's services, as well as the qualities you wish to portray as a business. We can also integrate special features as needed.
An Established and Trustworthy Image: A well-designed original website helps convey to your audience that you are a credible and professional business. Therefore, with our auto dealer website design services, we can help you gain trust from prospective customers.
A 24 Hour Salesman: Your website is available every day, 24 hours a day. Therefore, it can display important information to potential customers even when you business is closed. When working on your auto dealer website design project, we can help you list and explain the services and products you offer, so that this important information is readily available to potential customers. Therefore, your website can act as an additional salesperson for your business even when you are closed.
Why Choose Our Auto Dealer Website Designer
One of the main things that sets apart Silver Scope Web Design apart from other auto dealer website designers is our attention to detail in every project we take up. Here are some of the reasons why you should choose us:
We offer a variety of packages for our auto dealer website design services in order to suit the needs of different clients. This makes our services affordable for both small auto dealerships and larger ones.
The auto dealer websites that we provide are built from scratch depending on the preference and needs of each client. Our expert team of designers will work closely with you to help you maintain originality and consistent branding while designing a unique auto dealer website design just for you.
We can also help you register and manage domain names, so that you do not have to go through the hassle involved in completing these tasks.
Contact Us for the Best Auto Dealer Website Design Services
If you are looking for a reliable and professional web design service that can build an effective website for your dealership, Silver Scope Web Design is the right place for you. Contact us today at (877) 745-8772 to get a quote, to find out more about our services, or for a free consultation.
See more websites in our web design by industry portfolio.