Pet Website Design: Web Design for Pet Groomers, Stores, Adoption Centers & More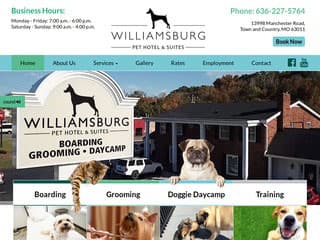 When it comes to their pets, customers want to feel assured that they have placed their trust in high-quality products and attentive care. That trust can be hard to earn, but Silver Scope Web Design offers custom pet website design services specifically intended to help your company stand out. Our team of expert designers can create websites that will show both the quality and the character of your business, allowing customers to see you as much more than just another pet company.
To learn more about our custom pet website design and how it can help you earn your customers' trust, call us at (877) 745-8772 or use our online contact form. We can provide a free customized web design quote for all projects.
Why Chose Our Pet Web Design Services
Your customers need to know that you are the right choice for them and for their pets. Most pet owners aren't looking to spend hours shopping around - they are seeking a reliable company that they can return to, and a website is one of the easiest ways to make or break that trust. At Silver Scope Web Design, we won't just give you a generic website that leaves your customers with no impression of who you really are, we believe that a website should be as unique as the company itself. We offer specialized custom web designs for pet businesses including:
Pet Groomers
Pet Boarding Facilities
Adoption Agencies
Specialty Pet Stores
Pet Sitters
Veterinary Clinics
Whether your business is helping pets find a new home or providing pet owners with the many services and products they need afterward, we can make your business stand out as the clear choice.
Benefits of Our Custom Pet Website Design
There is a lot of competition in the pet world, and customers want the best for themselves and for their pets. That is why we have a history of providing pet website design services that show the best of a business.
Benefits of our pet website design services include:
Working closely with your business to create a unique, customized website that allows customers to see who you are. We know that you put a lot of effort into your business, and we will design a pet website that reflects that.
Using SEO techniques to bring new customers to your business. More and more people are relying on the internet in order to help with the daily needs of being a pet owner, and by using optimized content, we can connect those pet owners with your business.
Fostering lasting relationships with existing clients. A professionally designed pet website shows that your business is trustworthy and dedicated. Many websites leave customers confused or frustrated, but we work to create intuitive and appealing designs that take away the stress and allow customers to establish a positive relationship with your business.
Expert design and advice from a team who are not just experts in general web design, but who also have specific experience in pet website and pet sitting website design.
Learn More About Our Pet Website Design Services
We look forward to learning about your unique business and sharing that image with your customers through our pet website design and pet sitting website design services. To learn more about how Silver Scope can help your business put its best foot (or paw!) forward, request a free pet website design quote by contacting us today.