Musician / Band Website Design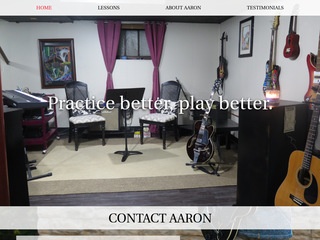 Your band has its own style and that is part of what makes you unique. However, your musical group needs an Internet presence that will reflect this style as well. Silver Scope Web Design creates unique, useful websites for bands. Musician websites designed by our team of skilled professionals are created with several important characteristics. So if you are looking for a band website, Silver Scope Web Design is an ideal choice for you.
Calendar for Performances
Websites designed for Musicians by our skilled designers include a calendar feature. This calendar can be updated as needed to include new gigs. Therefore, your band's fans will easily be able to find when and where they can see your band perform next. With the inclusion of an interactive calendar in your band website design from Silver Scope Web Design, you will make it easy for fans to follow your band to many performances.
Sell Band CD's and Merchandise Online
Another beneficial option for your website is to include the ability to sell CD's and band merchandise through your website. Silver Scope Web Design uses a simple, easy to use shopping cart to allow you to sell products online such as t-shirts and hats with your band logo. In this shopping cart, you can add pictures of merchandise along with brief descriptions so that customers will be clear on what they are buying.
Listen to Songs
Your band website designed by Silver Scope Web Design can also allow you to let visitors preview songs. With this feature, musicians can post short previews of new songs on their website to allow fans to hear songs they can to expect on a next CD. Your band may want to allow visitors to listen to tracks in order to draw attention to your band and create an interest in your music.
Book Our Band
We recommend that you provide a section on your website where visitors can contact your band to set up a performance. This "book the band" section of a musician's website allows you to collect names, email addresses, and phone numbers of people interested in your band. You can then keep this information and build a list of venues interested in your musical group.
Music Bank Mailing List
With a band website developed by our team of skilled website designers, you have the option to collect names for a mailing list. By collecting names for an email newsletter, you can keep fans up to date with the most recent information for your group. This helps musicians gain popularity and a steady group of followers.
Search Engine Optimization
The most important aspect of websites designed for musicians by Silver Scope Web Design is search engine optimization (SEO). SEO is process of creating a website that will rank well in search engines for certain chosen keywords and key phrases. When your website is listed at the top of search engines, this will allow new people to find your band.
Contact A Band Website Designer to Get Started on Your Project
If you are a musician looking for a well-designed website with personality, Silver Scope Web Design is the web design company for you. Please feel free to browse our website design portfolio to see some websites, which we have designed in the past. If you are interested in discussing what type of website we can create for your band, please contact our web design company today to speak with one of our specialized musician and band website designers.
See more websites in our web design by industry portfolio.