Local Business SEO
Local business SEO services can help small, local businesses target customers in their local area. By utilizing local SEO services, businesses are able to reach a localized target market with their online adverting and marketing. Therefore, taking advantage of local business SEO services allows companies to effectively market to local clients without wasting advertising on those outside of their service area.
At Silver Scope Web Design, our local business SEO services are ideal for any business or company that provides their services to customers in a small, local area including:
Restaurants and Bars
Locally Owned Retail Stores
Catering Companies
Florists
Auto Body Shops and Auto Repair Shops
Contractors and Home Repair Companies
Landscaping and Lawn Care Companies
Lawyers
Private Detective Agencies
Local Insurance Agencies
Real Estate Agents
Medical Treatment Centers and Doctors Offices
To learn more about our local SEO services for small, local businesses, contact us today to request your free SEO and website design quote.
---
Local Business SEO Case Study: Uncle Joe's Bar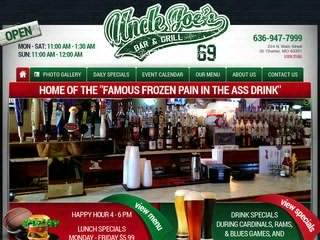 The website design and SEO project that we completed for Uncle Joe's Bar is one example of our local business SEO services. For this website, it was most important to target customers looking for bars in the St. Charles neighborhood, which is a small neighborhood located in the St. Louis metro area. Through the use of SEO website design and SEO copywriting services, we were able to make this local business SEO project a success.
About Uncle Joe's Bar
Uncle Joe's Bar came to our SEO company as a local sports bar located in a popular local college neighborhood in the St. Louis County area. This restaurant and bar understood that their potential customers are not likely to travel long distances across the entire St. Louis area, and therefore, they want to advertise to a small local target market consisting mainly of customers located near the Lindenwood University campus.
Our SEO Approach
Our approach for this local business SEO project was to narrow in and target mainly customers in this bar's local area. Through the use of a variety of SEO techniques including SEO copywriting, search engine optimized coding, and META tags, our SEO experts created a website that ranks highly for a number of searches that include relevant key phrases.
---
Local Business SEO Case Study: Sokoloski Investigations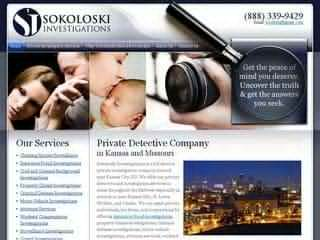 Another example of our local business SEO services is the Sokoloski Investigations website design and search engine optimization project. This website focuses mainly on the company's cheating spouse surveillance and private detective services for couples and families. We incorporated a number of search engine optimization techniques when writing the code to target customers in the Kansas City area.
About Sokoloski Investigations
Sokoloski Investigations is an established private detective company located in Kansas City, Kansas. This company offers services around the Missouri and Kansas area, but wanted to focus their website marketing largely to the local Kansas City area. The company had never had a website but was interested in growing their business with a new website and successful internet marketing plan. With local business SEO services from our SEO experts, they now have an effective website to attract new customers from within their local area.
Our SEO Approach
While Sokoloski Investigations provides a number of investigation services to law firms, insurance companies, and private citizens, we focused on the company's services for cheating spouse surveillance. The company's new website includes search engine optimized content and a number of pages that are optimized for relevant key phrases. With our local business SEO services, we were able to create an optimized website that ranks well in search engine result pages because it is tailored to their target demographic in the Kansas City area.
Get Started on Your Local SEO & Website Design Project
To learn more about how our local SEO and website design services can help your business grow and target your local area, contact us online or by phone at (877) 745-8772 today.