Manufacturer Website Design: Web Design for Product Manufacturers & Suppliers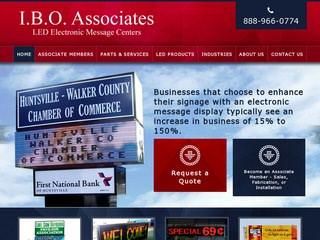 Manufacturers that distribute their products through a network of suppliers and retailers often need to develop unique websites, which are able to market their products to retailers without overstepping certain boundaries. This typically means setting up a website that will allow the manufacturer to provide product information while generally reaching out only to distributor networks and other retail channels instead of the final consumer so as not to compete with retailers and distribution partners who advertise and sell the manufacturers products directly to consumers.
With the manufacturer website design services available from Silver Scope Web Design, we can develop effective websites for manufacturers and wholesale suppliers that allow them to advertise and market directly to the distributors and retail stores that carry their products. We understand the challenges that are commonly faced by product manufacturers when developing websites and can help them overcome any issues with innovative solutions.
With a new website from our professional web designers, you can achieve a balance that lets you market products to final consumers by providing in depth product information, direct consumers to your preferred distributors, attract new distributors for your products, sell products directly online, and provide distributors and retailers with sales sheets and other marketing materials.
To learn more about our manufacturer website design services for product manufacturers and suppliers, please contact Silver Scope Web Design.
Challenges for Manufacturer Website Design Projects
Challenges and issues that are commonly encountered in manufacturer website design projects for suppliers and product manufacturers include a desire to:
Provide additional, in depth content for consumers that distributors may not or will not have available through their own websites
Maintain branding and marketing consistency across multiple advertising channels
Market products in a way that complements distributor marketing efforts without stepping on the toes of distributors or overshadowing distributors' advertising campaigns
Generate leads and drives sales for distributors by directing consumers to contact local distributors
Provide the necessary marketing materials, sales sheets, and product information that retailers or distributors need to sell your products
Encourage new distributors and retailers to carry your products
Offer additional industry resources for consumers and distributors to establish credibility and strengthen relationships
Who Needs Manufacturer Website Design Services
Companies and manufacturers in variety of industries can benefit from our manufacturer website design services. Whether you sell directly to consumers, only through partnerships with specialized distributors, or through private branding strategies with retailers, our manufacturer website design services can help you build and establish relationships with distributors, reach new customers, promote your products, and improve product sales.
Our Complete Manufacturer Website Design Services
Each manufacturer website design project that we complete includes search engine optimized website design and coding in order to maximize the overall effectiveness of the final website. By utilizing principals of SEO, we will create a website that ranks well in popular search engine and attracts relevant traffic. We also offer a variety of other services with our manufacturer website design services including:
To learn more about any of our website design services for manufacturers, wholesalers, and suppliers, please contact our web design company or request a free website design quote.
See more websites in our web design by industry portfolio.