Website Hosting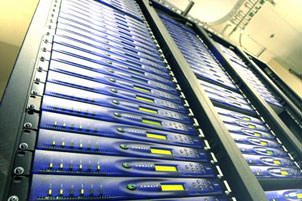 We lease a chunk of an extremely fast server that is part of a major hosting organization. They are equipped with ultra wide pipelines (so information can be exchanged at the fastest possible speed) and the servers are designed to handle a lot of simultaneous traffic on your site at any given time.
As a general rule, we price the hosting by how many pages are on your site and how much server space is being used by your site (since that is how we are charged).
We handle the hosting aspect for you to make it easier for you to run your business and that is one less thing for you to worry about.
Uptime
Once of the most important aspects of website hosting is the server's uptime. If the server crashes your website can not be displayed. Feel free to click the image below to see our server's uptime as monitored by a third party company.
Bandwidth
Bandwidth is how much data is processed through the server, or better yet how much information is sent through the high-speed lines that connect the server to the Internet. One GB (gigabyte) or around 1000 megabytes of bandwidth equals about 3000 visitors per month depending on how many pages in a website a visitor surfs and how big the images, movies, or documents are. We allocate more than enough bandwidth for our clients as to avoid overcharges (unlike other hosting companies). None of our clients have ever exceeded their bandwidth limit.
Hard Disk Space
Hard disk space is the total amount of server space that is needed to contain everything on your website (images, PDF files, space allocated for emails, web page code, videos, and so on).