Expert Medical Staffing SEO Services
Looking to make faster placements, grow your medical staffing company, and win against your competitors? Given that four out of five consumers find local businesses by searching online, the key to achieving your business goals is to ensure your business is visible in the digital space. A foolproof digital marketing strategy that focuses on medical staffing SEO is what you need to ensure your target customers find you, at the right time, in the right digital space.
At Silver Scope Web Design, we offer expert medical staffing SEO services that can help propel your staffing company to the top of search engine results, and as a result, boost your business's growth.
Contact us today to learn more about our medical staffing SEO services or to request a quote to get started on your SEO and website design project.
---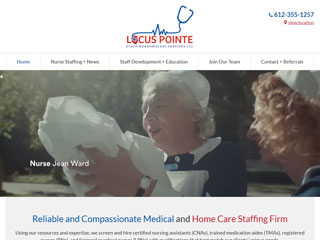 Locus Pointe Staffing and Homecare Services
Medical Staffing Website Design & Home Health Care Website Design
As a new homecare company offering both nurse staffing services as well as homecare and nursing services in group settings and at private homes, Locus Pointe came to us looking for a website that would portray all of these unique offerings while fitting in their budget. We developed a five page website complete with search engine optimized content, clearly defining all of the services. As the company is owned and operated by experienced and dedicated nurses, an important element of this website design was the ability to incorporate video celebrating the important roles that nurses play in the header. The completed website is perfect to promote the company and their mission now, as well as grow with them in the future as needed.
---
Why Do You Need Medical Staffing SEO Services?
When your goal is to attract new clients, old-world marketing efforts such as cold calls or paid advertisements may no longer be enough. In the digital age, most people prefer to search online to find healthcare staffing services and jobs in the health care industry.
In fact, 13 billion searches are conducted each day on Google, and close to two-thirds of Internet users say they will not associate with a business that does not have a strong online presence.
More importantly, 92 percent of online searchers pick businesses listed on the first page of online search results. Silver Scope Web Design's medical staffing SEO services are designed to ensure those who are looking for your services find you when they conduct an online search. Instead of 'push strategies' such as paid ads that most consumers ignore, our SEO services 'pull' your target audience to your site.
The Benefits of Our Medical Staffing SEO
Our medical staffing SEO services focus on improving your site to boost organic visibility for relevant search queries. The goal of our SEO services is to not just stuff keywords into pages but to improve the overall quality of your website. The entire process starts with gaining a thorough understanding of your company, your digital marketing goals, and your target audience. We then delve into keyword research to find the best short and long-tail keywords that your prospects are using online. Our team of SEO experts also focuses on core vitals such as optimizing your site's mobile-friendliness, link building, site speed, responsiveness, and content development.
Our smart medical staffing SEO strategy has delivered the results that matter to businesses. Choosing us for medical staffing SEO services helps your business:
Rank higher on search results
Build brand awareness
Establish yourself as an authority
Generate high-quality, organic leads
Drive web traffic
Strengthen brand credibility
Engage and inform customers
Enrich user experience
Complement other digital marketing efforts
In addition to medical staffing SEO, we also offer medical staffing website design and medical staffing logo design to help you achieve a holistic improvement of all your marketing elements.
Connect with Us to Get Started
At Silver Scope Web Design, we have the winning SEO formula that is designed to help you ace your competitors and be the top medical staffing company. Connect with us by phone or fill out our online SEO and website design quote request form to learn more about how our medical staffing SEO services can benefit your business.