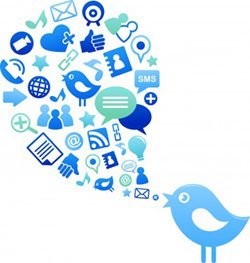 Twitter Marketing: Using Twitter Pages to Market Your Business
The main benefit that Twitter offers over other media outlets is its ability to provide real-time information to the world. In the past, people used TV or radio to stay connected to the world around them and receive important news and updates. However, Twitter is making it easier than ever for people to get the updates and news that is important to them. Celebrities and athletes have already begun to see the importance of using Twitter as they build their brand and stay connected with followers and now businesses are beginning to see the importance of Twitter marketing as well.
At Silver Scope Design, we offer a variety of packages and services to help businesses build and maintain an effective social media marketing strategy. These services include the use of Twitter marketing with Twitter page development and setup as well as weekly Twitter maintenance with regular Tweeting.
Our Twitter Design Portfolio:
---
---
---
Benefits of Marketing your Business with Twitter
With our social media marketing and Twitter marketing packages, you can:
Boost SEO: If you have great content on your website, Twitter can help you drive additional traffic to this content. A quick Tweet with your webpage URL can attract additional traffic to the page. Additionally, Google is recognizing the importance of social media and they have been increasing the impact that links within Tweets may have on overall search engine ranking for a page or website.
Participate in Industry Conversations: Your target audience and potential customers are on Twitter and they may be discussing their frustrations or communicating positive experiences related to your industry. Monitoring and participating in these conversations will help to you better understand your industry and your customers' wants and needs.
Build and Improve Brand Awareness: As celebrities quickly realized, Twitter can be an important tool for building and maintaining brand awareness. Whether you are a famous singer promoting a new tour or a business introducing the latest services, Twitter allows you to keep your brand out there and in peoples' minds.
Gain a Competitive Intelligence: If they have not already, you will likely soon find that many of you competitors are beginning to recognize the benefits of Twitter marketing for businesses. Therefore, you can use Twitter to review competitor pages in order to monitor any new product launches or new services offered or simply to see how your competition uses Twitter marketing themselves.
Engage with your Target Audience: Twitter allows you to not only market to potential and existing customers, but also to interact directly with these people as well. This can become a very important step in your marketing plan.
Manage your Online Reputation: With the widespread availability of the Internet, news spreads quickly. Therefore, by monitoring Twitter, you can see real-time customer reactions. If customers Tweet about a positive or negative experience with your company, you can quickly see and address this if necessary. Responding to customer complaints by letting customers know you are working to prevent problems in the future can help you to counter negative experiences and comments from customers.
Promote your Blog Content: Developing and using a blog for your website can be an important step to help increase search engine rankings and improve website traffic. If your blog contains relevant information and news, you can promote this content via your Twitter page in order to increase traffic.
Receive Customer Feedback: Twitter helps you to stay connected with your customers. By monitoring what customers are saying about your company and the industry, you can recognize areas of need in the community. This can help you add or modify products and services based specifically on your customers' needs.
Promote New Events, Products, and More: Twitter marketing is an effective outlet for advertising upcoming events, new products, and special offers. While the key to social marketing success if to avoid being too promotional and to keep topics fun and social, Twitter provides an excellent outlet for occasional promotions.
Learn more about our Twitter and Social Media Marketing Services
As a leading website design and SEO company, we offer a complete variety of online marketing and social media marketing services to our clients. We can help you promote your business with professional website development and complete social media marketing set up and maintenance services. Our available Twitter marketing services include several packages, which allow us to develop customized social media portals and manage ongoing marketing efforts with our social media marketing packages.
To learn more about our Twitter marketing packages or any of our social media marketing services and to find out how these services can help your business advertise online, please contact Silver Scope Web Design today.