Create the Desired Impact with Compelling Brochure Design Solutions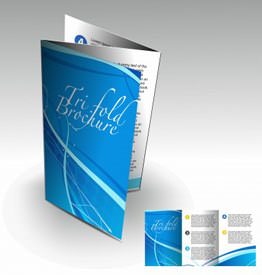 A brochure is a booklet, leaflet, or a pamphlet comprising information and images to promote a product or service. In a brochure, visual images work together with text-based information to capture a customer's attention and explain the benefits or advantages that this service offers. This is the reason why businesses invest their marketing dollars into developing compelling brochures that combine aesthetic graphics with attractive sales pitches to derive the outcome they seek.
Brochures are at the forefront of all many strategies, as they can reinforce other marketing efforts both online and off. Brochure designs have great recall value and inform your customers about your products and services in a nutshell. They can also reinforce messages and direct customers to visit your website to learn more information about the products and services you offer. If you are looking for value packed brochure designs, Silver Scope Design can help.
See examples of our Brochure Design Services below.
Why Choose Brochure Design Services from Silver Scope Design
At Silver Scope Web Design, we are much more than just website design. We are a one-stop destination to help you develop a range of different marketing tools, from web design to brochure design. Our graphic designers work with you to create designs that communicate your message effectively to your target audience. Additionally, because we offer a range of graphic design and online design services, we can help ensure a cohesive message and design across all of your marketing efforts.
Highlights of our brochure design services:
We design all kinds of brochures, from standard one-page pamphlets to tri-fold brochures or any other unique design you have in mind.
Our brochure designs incorporate proper use of appealing images and quality content to attract and retain the attention of prospective clients.
While conceptualizing brochure designs, we keep in mind other marketing tools that you use to ensure consistency and continuity in the design elements.
We offer two rounds of revisions to develop a design that meets your expectations.
Our brochure design services are very affordable and customized.
Our designers are up to date with latest design trends.
A Look at Our Brochure Design Process
We use a systematic process when designing brochures in order to help us deliver quality end-products that meet our clients expectations and goals.
Initial Consultation: When we begin your brochure design process, we will talk with you to understand your business, what message you want your brochure to convey, and other important related information. This helps us to create brochure designs that speak of who you are. We will also gather company logo, pictures, content, and other information provided by you that can be seamlessly incorporated in the brochure design.
Determining Layout and Format: The next step in the brochure design process is to determine what type of brochure you want. We offer many brochure design options, styles, and layouts with different specifications regarding size, number of pages, etc. You can choose one that best suits your purpose. We are always excited to work with new layout ideas as well.
Design & Review: After consulting with you, our designers put the content, images, and graphics together to create your brochure. At this stage, we allow you to review the brochure and provide feedback. We then make the revisions that you deem necessary. We allow two complete rounds of review and revisions.
Final Delivery: Once you are satisfied with the brochure design, we put together the final files in a digital format that you can email to clients, allow clients to download from your website, and have printed.
---
The PISA Group Trifold Brochure Design
Cover/Outside: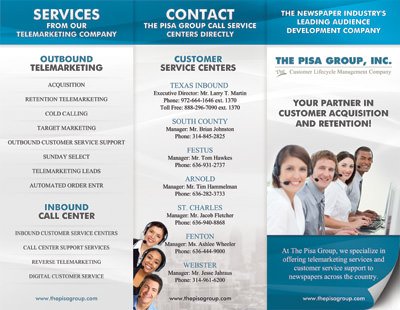 Inside: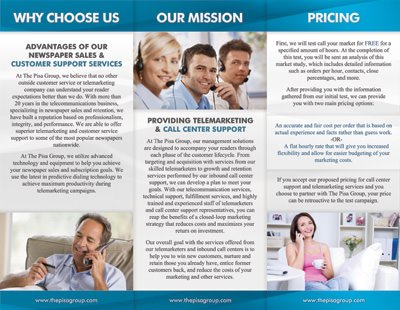 ---
Landscaping Company Door Hanger Flyer Design

---
Medical Alarm Company 1 Page Brochure Design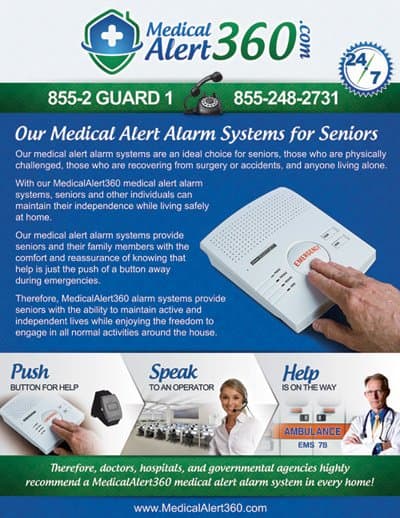 ---
2 Page Brochure Design for MedicalAlert360
Front: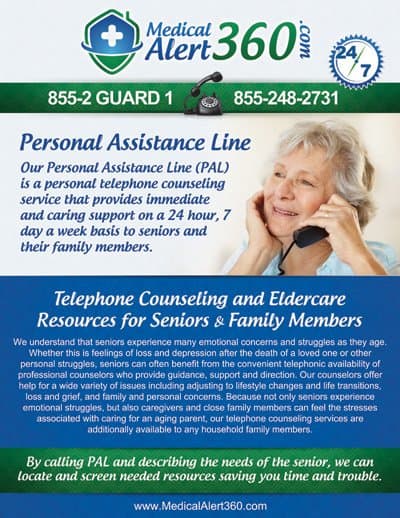 Back: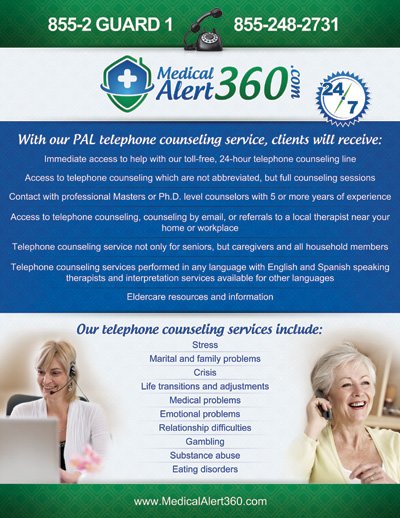 ---
Contact Our Brochure Design Team to Learn More About Our Graphic Design Services
Brochures are effective marketing tools that send across a powerful message to your customers about your brand and offerings. Well-designed brochures can be instrumental in attracting attention to your brand and giving consumers the confidence to learn more about what you have to offer. To learn more about the benefits of good brochure and marketing material design and to learn more about our complete graphic design and brochure design services, contact us at Silver Scope Design today.