Update Your School's Image with a New School Logo Design
Whether you are building, remodeling, re-districting, or re-branding your school, you will need a school logo design that is inviting and distinct. At Silver Scope, we provide you with a team of graphic designers who have experience creating school logo designs for pre-schools, elementary schools, middle schools, high schools, junior high schools, charter schools, private schools, and parochial schools, as well as daycare and after school care centers. No matter the size of your school or enrollment, we focus on the detail and appeal of your logo, so you can focus on your students.
Our graphic designers are vastly experienced developing logos for schools of all kinds. If you are ready to work with designers who are talented and understand your industry, contact Silver Scope Web Design at (877) 745-8772 or get started with one of the packages below.
Basic Logo Design
Package:
3 Initial Logo Concepts
$295
Standard Logo Design
Package:
6 Initial Logo Concepts
$395
Bonus Logo Design
Package:
10 Initial Logo Concepts
$495
---
Elementary School Logo Design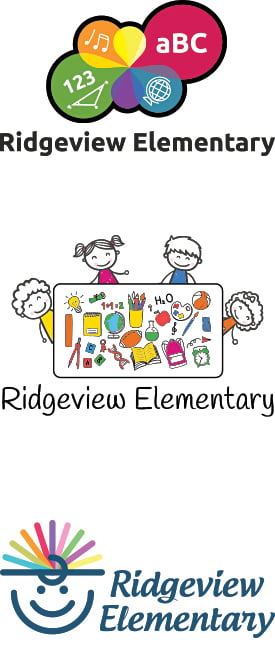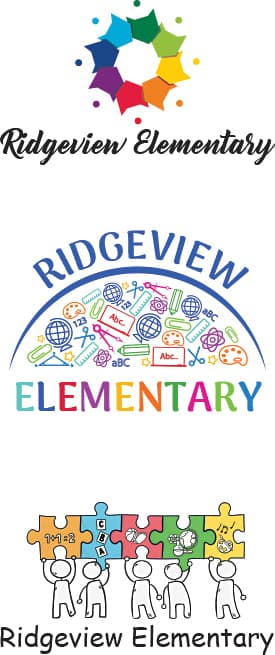 ---
College / University Logo Design


---
Make Your School Logo Design Work for You
Every day your school impacts students' futures, families' lives, and the local community. While you are busy organizing learning events, developing curriculum, and guiding students toward success, make sure your school name is proudly displayed on every paper, every sign, and every web page. With a fresh and visually appealing school logo design, you attract positive attention from every viewer.
Naturally, you are more concerned with your students' ability to grow and learn, but schools need proper branding to communicate their mission. To gain support from parents and community stakeholders, you must indicate what you have to offer students. Whether your focus is state-of-the-art technology, a booming math and science program, competition-winning fine arts programs, or a health-focused food and physical education program, your school logo design must reflect your values and convey your strengths. Consider all the places your logo will appear—on your website, banners, signage, social media profiles, and statewide competitions. Invest in your school logo design with Silver Scope Design and gain credibility in the eyes of your community.
How We Create the Perfect Logo Design for Your School
When you work with Silver Scope Design, our design team will come up with logo concepts that you never could have imagined. We study the market trends and styles for school logos, so you do not have to. Every logo we set before you will be innovative, eye-catching, and meaningful. Our team hits the books for you and leaves no detail untended in the design of your logo. They will take care of:
Color
Font
Simplicity
Distinction
Every logo package option we offer gives you the opportunity to narrow down your choices. Each logo concept will be carefully designed with slightly different effects and yet every logo will strike an equilibrium between negative space, color values, and illustration. Because you know your school best, you will have no problem selecting the logo that is right for you.
Get Started on Your School Logo Design Project?
Whether you are building a new school or just revamping your current school logo design and marketing materials, Silver Scope Design is here and ready to work with you. Our graphic designers are eager to listen to your needs and craft a logo as memorable as your school. We also offer specialized education website design services to complete your online marketing needs. Get a free quote online for your logo design today or learn more about our logo design services by calling (877) 745-8772.
---
Basic Logo Design
Package:
3 Initial Logo Concepts
$295
Standard Logo Design
Package:
6 Initial Logo Concepts
$395
Bonus Logo Design
Package:
10 Initial Logo Concepts
$495