SEO Web Design Company Developing Websites for Internet Marketing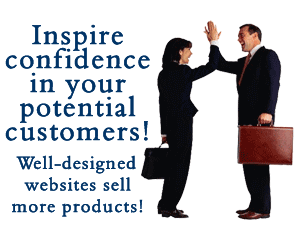 Silver Scope Design is an Internet marketing agency specializing in SEO web design so your target demographic finds your website in the top of the search engine results. A website with a great user experience is the best resource to convert visitors to clients and customers. From the domain name and hosting to navigation and layout, we have the experience and professionalism that your business demands to get the job done right the first time. You deserve to let us build an amazing, effective presence for you on the Internet .
Request a free website proposal for a detailed explanation of benefits of our services. Take a look at our web design prices and you will see that we have the best website design packages for nearly any budget. Check out our website packages and see which one fits your needs the best.
Why Silver Scope Web Design?

We know SEO (Search Engine Optimization) and write content so your web pages rank well in search engines.
Web design services provided at highly competitive pricing.
Quick turnaround on web design projects.
Multiple web design packages and quality web design service to meet your business needs.
Expertise in the ecommerce and online business fields.
Our web design team is friendly, experienced, located in the St. Louis area and dedicated to your online success.
Silver Scope Web Design provides powerful and proven web design, web development, and social media marketing for businesses. No matter your needs, we have the experience and personnel to design your website and bring your products and services online quickly and professionally.
We know your website is critical to your online success, so we will work closely with you to design a website that reflects the quality and service your company represents.
This St. Louis web design company will come meet you face-to-face at your St. Louis business.

Why does your business need a website?

It is easier to remember a website address than a phone number.
Your website will never have a busy signal.
Potential customers can see your products and services on your website.
Your website is up and running 24/7, even while you're sleeping.
Your website will give you more exposure to potential customers.
If you hired someone at

$

10 per hour to do the same job as your website it would cost you

$

1680 per week.
Having a website is like sending a salesman through the computer to your potential customers.