Design Services: Website Design, Graphic Design, SEO, Web Development, and More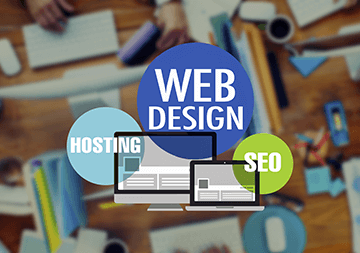 From creating a conceptual design to promoting your site online, Silver Scope Web Design offers a wide range of web design services. With our complete custom website design, logo design, search engine optimization, and website development services, we offer all of the resources you need to create a cost-effective, visually exciting, and successful website.
Additionally, we offer ongoing support services including web hosting, website maintenance, and consulting services. If you are looking for a professional website design company with web design services to maintain and increase your company's Internet presence as your company continues to grow, Silver Scope Web Design is the choice for you.
Our design services include the following:
As a leading St. Louis-based web design company, custom website design is our number one service. We have experience working with companies in a variety of industries through our web design services, and we can offer valuable advice and insight for your website design project. Learn more about our web design services by industry or view our web design portfolio to see samples of previous custom web design projects.
Search engine optimization is an important feature that can help increase traffic to your website, making your website an effective small business advertising tool. This web design service is included in all of our new websites. Additionally, we can optimize an existing website using a number of important SEO techniques.
A logo often provides the first impression of your business to your customers. A good logo will help customers remember your company and can increase brand recognition. We offer custom logo design services for new and existing businesses to help distinguish your company's unique identity.
With the increasing popularity of smart phones, mobile website design is becoming even more important. Our mobile websites give your business an edge by allowing visitors to access important information quickly from their smart phone.
These days, people do not just access the Internet from their computers. With the ready availability and wide use of web enabled devices, users browse the Internet on everything from smart phones to tablets and gaming devices. Because each of these devices has unique dimensions, the need for responsive web design has arisen.
Having detailed and complete content on your website is not only important to help sell your products or services to potential clients, but also can greatly improve your website's search engine optimization. Therefore, our web design services include search engine optimized content development, also known as SEO copywriting. This original content is specifically written to allow your website to rank well in popular search engines and to help explain your products and/or services to your website visitors.
The use and integration of social networking is becoming increasingly important for any business' Internet marketing plan. At Silver Scope Web Design, we can develop a complete online marketing plan that integrates social media with your website. From developing and designing Facebook pages, Twitter accounts, and LinkedIn profiles to managing and updating existing social network pages, we are a one stop source for all of your online marketing and advertising needs.
Our graphic designers can design a complete variety of marketing materials for your company including print materials such as brochures, newsletters, and advertisements as well as online materials like social networking pages, online newsletters, and email advertisements. With our complete graphic design services you can improve your company branding with consistent and cohesive marketing materials.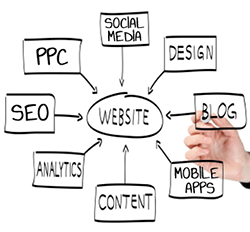 Web development is the complete process of creating and coding a website. At Silver Scope, this web design service includes utilizing proper coding to ensure cross browser compatibility and applying a variety of important search engine optimization techniques in order to increase website ranking.
With our WordPress website design services, we can create custom WordPress themes for blogs as well as develop custom websites that utilize WordPress as an easy to use content management system.
If you website could use a face-lift, our website redesign services will help give your website a renewed and professional image while also improving usability and search engine optimization for your site.
Your domain name is how customers will remember your site and has a large impact on search engine optimization. With this web design service, we will help register and manage your domain name, making one less hassle that you have to worry about.
All websites have to be hosted from a server. While you are free to host your website with whomever you please, Silver Scope Web Design recommends that our clients use our website hosting service due to superior uptime, fast bandwidth, and large hard disk space.
All of our website design and hosting packages include professional email addresses for business communication. We recommend this service to our clients because these email addresses are easy to remember and look more professional.
As part of our complete web design services, we offer website maintenance services for our clients. We can provide continued support and minor updates as needed for your website.
Selling products online has never been easier than with our e-commerce website design services. We can design new e-commerce websites or integrate our easy to use e-commerce shopping cart into your existing website.
W3C compatibility standards ensure that websites are compatible across browsers and for people with disabilities, thus allowing for a better viewing experience for all visitors. All of the websites designed by Silver Scope Web Design meet W3C standards.
Website Consulting:
As a leading website design company, our professional website developers are available for website consulting. This website design service is great for new businesses as well as existing companies that are planning upcoming growth or expansion.
If you are interested in any of these professional website design services for your new or existing business, request a free web design quote or contact our website design company for additional information on these services.